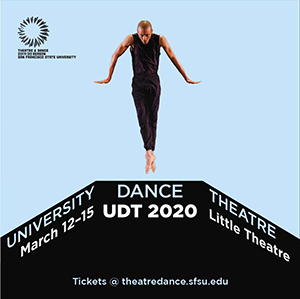 Director's Note
As the University Dance Theatre Fall 2019 director, the main tasks were to bring together faculty and guest choreographers and build a program that reflected on the diversity of our student body and the various genres of dance offered at SF State Dance Program.
Faculties Wendy Diamond created a poignant ballet on mortality set partly to Jimi Hendrix while Arvejon Jones combined contemporary and African movement with a sound score that included Vivaldi. Faculty Ray Tadio's choreography is inspired and set to music by 1990s club dance icon Kristine W., using modern dance with an improvisational approach. Finally, guest choreographer Dana Fitchett's piece blends traditional West African dance styles and ballet with music by Fatuomata Diawara, Nidia Gongora, and David Morales. Along with selected student choreography from the New Moves Student Choreography Showcase, Fall 2019, the UDT Spring 2020 concert (under the direction of Professor Jo Tomalin) was planned for an inaugural event for dance at the Little Theatre in March.
The highly anticipated performances at the Little Theatre were sadly canceled with the mandate to move all university classes remotely during the week of the concert due to the COVID-19 pandemic. The hard work of the choreographers, dancers, designers, staff, and crew members was left unperformed in front of a live audience, except for a few recorded dress runs and numerous rehearsal videos. What was to be a powerful, diverse, and realized event instead became profound memories of the creative process of dance making, an undying experience never to be erased nor forgotten.
-Ray Tadio, UDT Director & Choreographer Fall 2019
Welcome to the San Francisco State University School of Theatre & Dance and our University Dance Theatre 2020 production comprising a vibrant ensemble of student dancers in this exciting new choreography showcase. Featuring new works by guest choreographer and multidisciplinary artist dana e. fitchett and acclaimed international and national dance faculty choreographers Wendy Diamond, Arvejon Jones, and Ray Tadio, joined by student choreographers. I hope you enjoy the dynamic energy and expressive visceral storytelling of these artists of today – and the future.
-Jo Tomalin, UDT Director Spring 2020
Program
Rehearsal Video
Coming Soon
Photo Slideshow