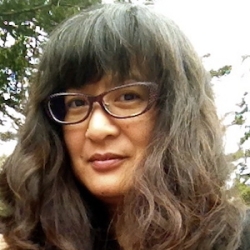 Yutian Wong
( She/Her/Hers )
Professor
Dance History, Dance Composition ***On Sabbatical Fall 2023 & Spring 2024
Email: ytw@sfsu.edu
Location: CA 101
Ph.D. Dance History and Theory, University of California, Riverside
B.A. Art History, University of California, Davis
Yutian Wong 汪育恬 (wāng yùtián) teaches dance studies (history, ethnography, writing/dance composition). Prior to joining the faculty at SF State in 2009, Wong was a Mellon Postdoctoral Fellow in Arts (Dance) and Feminist and Gender Studies at Bryn Mawr College, and an Assistant Professor of Asian American Studies and Dance at the University of Illinois, Urbana-Champaign.
Wong is the author of Choreographing Asian America (Wesleyan, 2010), editor of Contemporary Directions in Asian American Dance (Wisconsin, 2016), co-editor with Jens Richard Giersdorf of The Routledge Dance Studies Reader 3rd Edition (Routledge, 2018), and co-editor with SanSan Kwan of "Dancing in the Aftermath of Anti-Asian Violence" for Conversations Across the Field of Dance Studies (2023). Her articles have been published in Discourses in Dance, Dance Research Journal, Short Film Studies; and chapters included in Worlding Dance (Palgrave) edited by Susan Leigh Foster, Choreography and Corporeality: Relay in Motion (Palgrave) edited by Thomas DeFrantz and Philippa Rothfield, The Oxford Handbook of Dance and Competition (Oxford) edited by Sherrill Dodds, and The Oxford Encyclopedia of Asian American and Pacific Islander Literature and Culture (Oxford) edited by Josephine Lee. Other writing can be found in Society and Space and Arcade.
Current research projects include writing a monograph titled Dancing in the Archives of Sincerity; co-editing Bangtan Remixed: The Critical BTS Reader (under contract with Duke) with Patty Ahn, Michelle Cho, Vernadette Vicuña Gonzalez, Rani Neutill, and Mimi Thi Nguyen. Instagram @criticalbtsreader; contributing essays on BTS and screendance to Lo:Tech:Pop:Cult edited by Alana Thain and Priscilla Guy, on humor and cosplay choreography for Dance Insurrections co-edited by Hannah Schwadron and Marta Savigliano; and manifesting The Giant Bonsai Institute—an ongoing durational performance project.
 ***On Sabbatical Fall 2023 & Spring 2024