The curriculum in theatre provides the student with background for advanced study in the dramatic arts, for teaching, for a career in professional theatre and for a lifelong appreciation of the theatrical arts. Fundamental to the major program is a core of required courses designed to develop a foundation upon which to pursue focused coursework in performance (acting and directing), design, technical production, play development, dramaturgy, or musical theatre.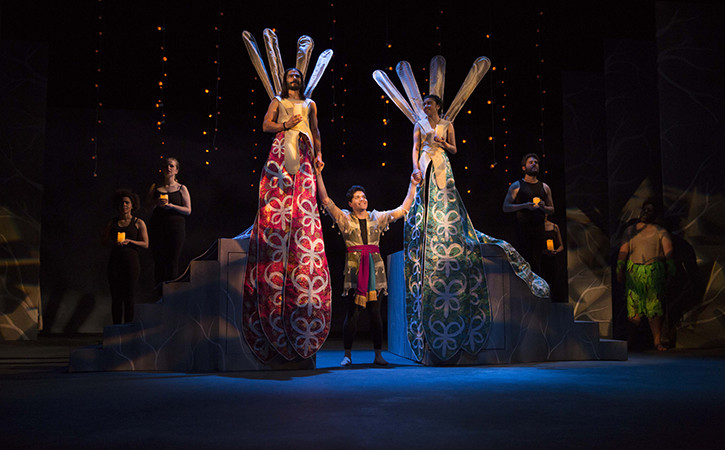 The 45-unit Bachelor of Arts in Theatre Arts provides students with a background for advanced study in theatre arts for a career in professional theatre, for teaching theatre arts or as a stepping stone towards higher learning. 
Prospective students must first apply to the University (Freshman or Transfer). Prospective undergraduate students must file a complete application. Remember to select THEATRE ARTS as your major.
For information about Theatre Arts coursework and curriculum, visit the SFSU bulletin or the Advising tab on the School of Theatre & Dance website.
Degree Planning Worksheets show which courses are core requirements and which are electives. They can be used to plan your degree progress and are available under the Advising Worksheets tab. There are 2-year and 4-year roadmaps also available on that webpage. 
The purpose of a Bachelor of Arts in Theatre Arts is to achieve a broad experience in the theatrical arts. Our curriculum is a reflection of that purpose. All theatre majors must successfully complete courses in acting, production, history, writing, and management. 
The Theatre Arts major is a 45-unit program. The major core is comprised of 27 units. The remaining 18 units are electives, which allows students to have the freedom to choose from a range of elective coursework.
Auditions are not required for admission to the program.
Auditions for productions usually take place at the end of the previous semester and/or during the first two weeks of instruction for the current semester.
Students cast in School of Theatre & Dance productions receive course credit for their participation in the production. Rehearsals for these curriculum-based productions take place during class hours, with some evening/weekend tech and dress rehearsals and performances. Rehearsals for M.A. student productions and extra-curricular productions may also take place during the evenings.