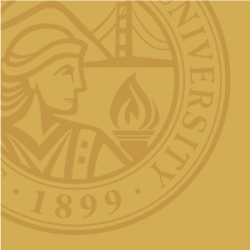 Ruth Raser Timbrell
Alumna
Ruth Raser Timbrell (M.F.A. 2005) graduated with a Bachelor's degree from Wheaton College, Norton, Massachusetts in French literature, minor in art.
She went on to get a Masters of Fine Arts Degree from San Francisco State University graduating in 2005 with a primary focus in costume, secondary focus in set design.
While at San Francisco State, she was a semi finalist at the Kennedy Center Theater Arts Foundation. Subsequently, the costumes designed by her for the SF State production of "Les Liaisons Dangereuses" proceeded to the Prague Quadrennial to represent SF State in the student exhibit. She has designed and created costumes for plays at various grade schools in the Bay Area and for Pinole Players, 42nd Street Moon, The Hill Barn Theater, Berkeley Playhouse and Young Performer's Theatre. Many of the costumes she has designed and constructed have been for plays that benefit scholarship for children.
Her volunteer work includes being a Guide at SFMOMA. In conjunction with SFMOMA her art work has been shown in the Staff art shows there.
She has illustrated a children's book "You Can't Teach a Dog to Chew with his Mouth Closed," available on Amazon.